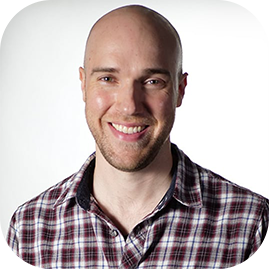 Hello and welcome. I'm Eric Carlsen, a Boston-based, Maine-grown 2D/3D animator & designer who's been creating computer graphics since the turn of the century. I love the power that art has to transfix, transport, and transform, and am passionate about crafting engaging stories and experiences in many different media. Sometimes I direct teams of fellow CG artists, edit video, write creative treatments, and design sound.

I'm the Director of Animation at Northern Light Productions, where I'm fortunate to work with an amazing team creating impactful media experiences for museums, institutions, and television. My work can be seen in museums across North America including the National World War II Museum in New Orleans, the San Juan National Historic Site in Puerto Rico, the Strong Museum of Play in Rochester, and the Canadian History Hall in Quebec.

I run the CG Chatter Podcast on the side, which covers the art, business, and lifestyle of creating computer graphics, and features one-on-one interviews with fellow industry professionals.

I enjoy making music with friends and family, teaching, and playing games. My wife and I hope to one day have a dog and a cat.
▪ First Division Museum,

Wheaton, IL: Animation, editing, sound design | 2017
▪ Western Reserve Historical Society,

Cleveland, OH: Interactive design | 2017


▪ Canadian History Hall,

Quebec, Canada: Design/layout, 2D/3D animation, rendering, post-production


▪ American Writers Museum

, Chicago, IL: Animation | 2017


▪ San Juan National Historic Site

, San Juan, PR: Storyboarding, design/layout, modeling, 2D/3D animation, rendering, post-production | 2016


▪ National WWII Museum

, New Orleans, LA: Storyboarding, design/layout, modeling, 2D/3D animation, rendering, post-production, sound design | 2015


▪ The Strong National Museum of Play

– Toy Halls of Fame, Rochester, NY: Director of animation, concepting, design/layout, modeling, 3D animation, rendering, post-production | 2015


▪ Hong Kong Maritime Museum

, Hong Kong, China: 2D/3D Animation & Design | 2015


▪ National Museum of the United States Army

, Washington, D.C.: Concepting, design/layout, technical supervision, motion tracking, modeling, rigging, animation, texturing, lighting, rendering, post-production | 2014


▪ Bullock Texas State History Museum

, Austin, TX: Concepting, storyboarding, modeling, rigging, 2D/3D animation, texturing, lighting, rendering, post-production | Musket Conservation | 2014


▪ Fort Raleigh National Historic Site

, Manteo, NC: Director of animation, concepting, design/layout, illustration, animation, post-production | 2014


▪ National Infantry Museum

, Columbus, GA: Design/layout, modeling, rigging, 2D/3D animation, texturing, lighting, rendering, post-production | 2013


▪ Los Angeles Environmental Learning Center

, Los Angeles, CA: Director of animation, concepting, design/layout, animation, post-production | 2013


▪ Poarch Band of Creek Indians

, Atmore, AL: Director of animation, storyboarding, design/layout, illustration, animation | 2012


▪ Cuban Missile Crisis

, JFK Library, Boston, MA (Temp Exhibit): Director of animation, design/layout, animation, post-production | 2012


▪ War in the Pacific National Historical Park

, Guam: Design/layout, animation, post-production | 2012


▪ Tea Party Ships and Museum

, Boston, MA: Modeling, texturing, rendering, post-production | 2012


▪ Andrew Jackson State Park

, Lancaster, SC: Design, modeling, animation, texturing, rendering, post-production | 2012


▪ United States Mint

, Philadelphia, PA: Design, modeling, rigging, animation, texturing, lighting, rendering, post-production | 2012


▪ Mob Museum

, Las Vegas, NV: Design/layout, modeling, rigging, rotoscoping, 2D/3D animation, lighting, rendering, post-production | 2012


▪ Historic Speedwell

, Morristown, NJ:

 

Design, animation | 2012


▪ Mt. Greylock State Park

, North Adams, MA: Design/layout, modeling, texturing, 2D/3D animation, lighting, rendering, post-production | 2011


▪ Laogai Museum

, Washington, D.C.: Design, animation | 2011


▪ Metropolitan Waterworks Museum

, Chestnut Hill, MA: Design/layout, animation | 2011


▪ Federal Reserve

, Boston, MA: Design/layout, post-production | 2010
▪ Birth of a Movement

, PBS Independent Lens: Design/layout, modeling, texturing, 3D animation, lighting, rendering, post-production | 2017


▪ Whitey Bulger: The Making of a Monster

, Discovery I.D.: Design/layout, 2D/3D animation, lighting, rendering, post-production | 2013


▪ Give me the Banjo

, PBS: Design/layout, animation, post-production | 2012


▪ Weapons of Mass Disruption: 

Director of 3D animation, concepting, storyboarding/animatics, minor animation and modeling work, rendering, post-production | 2011
▪ Letterbanc

: Director/producer, storyboarding/animatics, design, modeling, animation, texturing, lighting, rendering, post-production, music composition | 2012
▪

VHL Family Alliance

: Director, storyboarding, animation, post-production | 2010